Jets45
Histories
Douglas XB-42A "Mixmaster"
Mixed-Power Bomber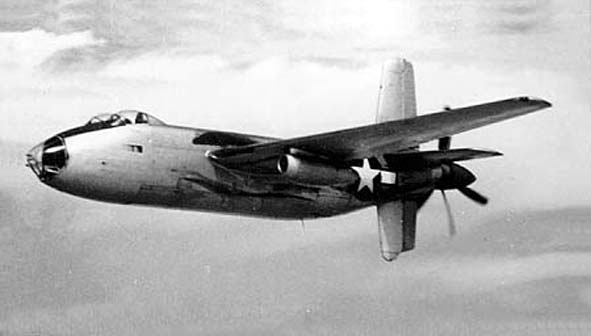 The XB-42A in flight
---
Engine: 2x Allison V-1710-133 piston engines and 2x Westinghouse 19B-2 turbojets.
Wing Span: 70' 6''
Length: 53' 8''
Height: 18' 10''
Weight: Empty 20,888 lb / Loaded 35,700 lb
Maximum Speed: 410 mph
Ceiling: 29,400'
Range: 1,800 miles
Crew: 3
Armament: 4x 0,50'' machine guns and 8,000 lb of bombs
History:
The Douglas XB 42A"Mixmaster" was a modification of the first XB 42 (S/N 43-50224) with two Westinghouse jet engines fitted under the wings, this increased the speed of the XB 42 to almost 490 mph, but at a cost of higher fuel consumption. The follow on project to this was the Douglas XB 43 "Jetmaster",just one XB 42A was made.