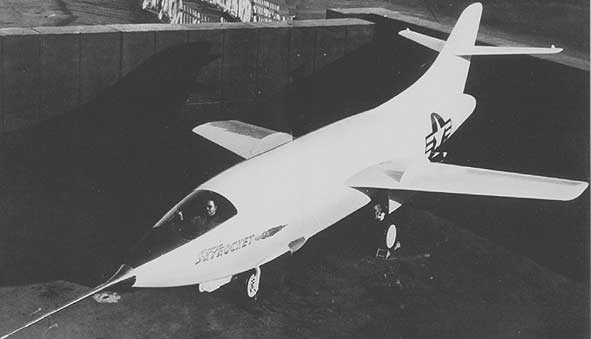 The D-558-II in it's original configuration late 1947
The D-558-II Skyrocket was the follow up design to the Skysteak, with all the design work on the Skyrocket being done by the end of 1945, even before the D-558-1 had took to the air! Powered by a Westinghouse J34-W-40 axial-flow turbojet engine with 3,000 lb of thrust and a Reaction Motors XLR-8-RM-5 rocket engines making 6,000 lb of thrust.
The first flight was on the 4/2/1948, powered by the Westinghouse engine alone as the rocket motor was not ready in time.
A number of changes were made after the first test flights including a new raised canopy and larger tailfin also the jet engine was removed to make way for more fuel for the rocket motor.