However under Soviets occupations, construction of a prototype Ef-126 was started in October 1945 at the Dessau plant, with a full scale mockup being ready by January 1946, the Soviets were impressed enough to order the Junkers team to make five aircraft. The first prototype was completed by mid May 1946, with it's first flight soon after wards, flown by Matthies. The aircraft was not fitted with an engine at this point, but was towed* into the air by a Junkers Ju-88G. The second test flight was on the 21/5/1946, this again with out the Argus As 044 engine being fitted, this flight ended with the aircraft crashing and killing the pilot Herr Matthies.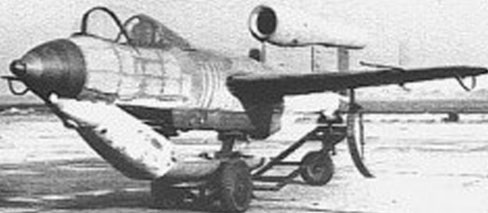 Another view of the same Ef-126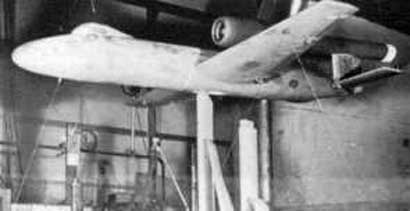 The wind tunnel model in 1945

After the crash a number of modifications were made to the design of the other four aircraft. In the summer of 1946 a Soviet commission inspected the work of the Junkers staff and in September 1946 three aircraft the V-2,V-3 and V-4 were transferred to the USSR for further flight trials and tests, the V-5 remained in Germany at the Dessau works, it having it's first flight on the 16/3/1947 again towed into the air by a Ju-88.