Jets45
Histories
Avro Lancaster
Bomber (testbed)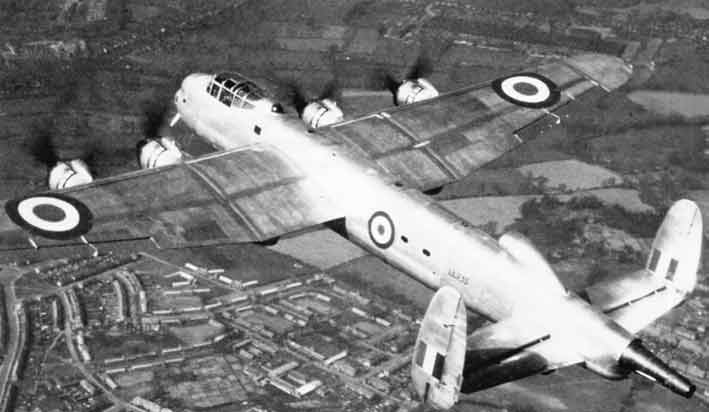 Lancaster LL 735
---
Test Engines: Armstrong Whitworth ASX & ASP / Metropolitan-Vickers F1/F2 "Beryl" / Rolls Royce "Nean" & "Dwent"
Specification For MK B-I
Engine: 4x Rolls-Royce "Merlin"XXII inline piston engines @ 1,460 hp each
Wing Span: 102'
Length: 69' 2''
Height: 20' 6''
Weight: Empty 36,900 lb / Loaded 68,000 lb
Maximum Speed: 287 mph
Ceiling: 24,500'
Range: 2,530 miles
Crew: 7
Armament: 8 x 303'' Browning machine guns / 18,000 lb of bombs
History:
Used to test a number of engines of all types, the first jet engine tested was Metropolitan-Vickers F2 "Beryl" axial-flow engine in 1943, the first flight being on 29/6/1943. The conversion was done by Armstrong Whitworth, with the engine being mounted in the rear of the first prototype Lancaster (BT308) in place of the rear turret, with a single intake being on the top of the fuselage in front of the twin tail plane, the dorsal turret being removed, a year later a Mk II (LL735) was fitted out in the same way, being used to test the F2/4 "Beryl" engine.
| | |
| --- | --- |
| The second engine tested was the Armstrong Whitworth AWX axial-flow engine, the conversion was done by Air Service Training on a Lancaster Mk IV (ND784), The AWX engine was fitted under the fuselage in the bomb bay, with the front and dorsal turret being removed, testing starting from June 1945 and totaled 48 hours. | |
The last aircraft used for testing was VH742 and PD167,these airframes were the most radically converted of all, with all turrets being removed and the front and rear of the aircraft being streamlined. The two outer engines were replaced by two Rolls Royce "Nean" engines. The conversion of VH742 starting in October 1945, with it's first flight being on the 16/8/1946, it continued to test the "Nene" engine until August 1949, when it was refitted with the new "Tay" engine, but it was never to fly again as the "Tay" was canceled in October 1949 and VH742 was dismantled.
| | |
| --- | --- |
| | VH742 in flight |