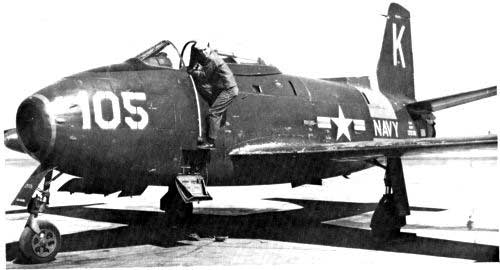 A FJ-1 "Fury" in later life 1953
The 30 FJ-1's were delivered from October 1947 to April 1948 entered service with the only squadron to use them VF-5A. All in all the pilots of VF-5A were happy with there new "Fury", but performance was poor when the aircraft was fully loaded,there were also problems with the wing tip tanks, which were never overcome. None the less the FJ-1 did out perform the Lockheed P-80 to win the Bendix Trophy in 1948.
VF-5A became VF-51 and operated the "Fury" until 1949 when it was replaced by the Grumman F9F-2 "Panther", the FJ-1's being phased out to be used in the US Navy reserve were they served as transition as trainers, before pilots moved on to the McDonnell F2H "Banshee" or the Grumman F9F-2 "Panther".