Jets45
Histories
North American P 51 "Mustang"
Fighter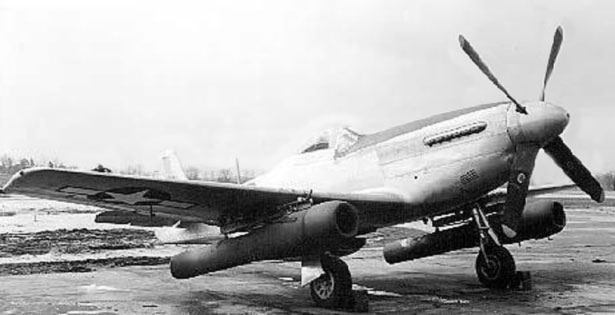 The P 51D with Ford PJ-31-1 pulsejets
---
Specifications for P 51D
Engine: 1x Packard V-1650-3 (Rolls-Royce Merlin 61) piston engine making 1,590 hp
Wing Span: 37' 1/4''
Length: 32' 3''
Height: 8' 8''
Weight: Empty 7,125 lb / Loaded 12,100 lb
Maximum Speed: 437 mph
Range: 2,300 miles
Crew: 1
Armament: 6x .50'' machine guns in wings / 2x 500 lb bombs under wings or 10x 5'' rockets or 6x "bazooka" tubes in two clusters of three.
History:
Designed as model NA 73 for the RAF in 1940, with the contract for the prototype being signed on the 23/4/1940 and a provisional order for 320 aircraft if the prototype came up to expectations. The Mustang (as named by the British) would prove to be one of the best piston engined fighters of all time, strangely with just about all it improvements being undertaken by or for the RAF, the most important of these being the fitting of the Roll-Royce Merlin engine in 1942.
How ever even this stunning aircraft was out performed by the new jets of 1944/45 and like the Soviets in an attempt to prolong the live of the "Mustang" as a front-line fighter a pair of Ford PJ-31-1 pulsejets were fitted on to the under side of the wings. The results were similar to the Soviet experiments on piston engined aircraft with added pulsejets, an increase in top speed when in use, but with excessive fuel consumption and high drag when not, the idea was dropped soon after the tests.

For a more information on jet engined Mustangs go to Jets45: The Jet Mustang after 1945