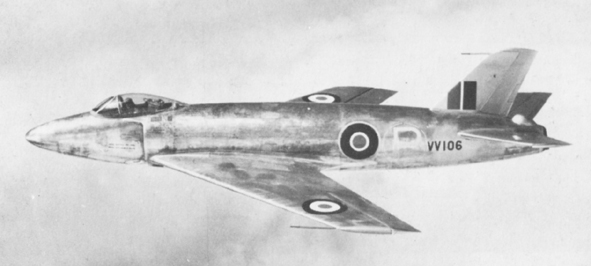 The VV106 "Swift" in 1948
In 1946 the British Air Staff issued specification E.41/46 for a single seat fighter with swept back flying services. Supermarine's answer to this was the Type 510, simply an Attacker airframe fitted with new wings and tailplanes set at a 40° sweep.
The two prototypes built (VV106 and VV119*) retained the undercarriage of the Attacker, the new aircraft has it's first flight on the 29/12/1948, flown by M.J. Lithgow and soon showed it's superiority in all departments over the Attacker, by 1949 the aircraft gained the name "Swift" however when compared to the North American F-86A it was a major disappointment .
*this aircraft had extensive modifications done to it in 1950, and served as the prototype for the production "Swift" of 1953.