Designed by Barnes Wallis to the Air Ministry specification B.9/32. The Wellington first flew in June 1936, entering service with the RAF in October 1938.
At the beginning of 1942 it was decided to use a Wellington (Z8570) as a testbed for the Rover built W.2B turbojet, because of the aircraft's legendary robustness and adaptability, the conversion being under taken by Vickers-Armstrong. Flight testing started in August 1942, with the aircraft achieving ten hours of flight time at altitudes up to 20,000'. Two other Wellingtons were used for the jet engine tests (W5389, W5518) being converted in the same manor in 1943.
The tests went well, with the Wellington's crew remarking how quiet and smooth the aeroplane was when run with the jet engine operating alone. Some dozen or so turbojet engines were tested in in a total of 512 hours by the Wellingtons up to 1946.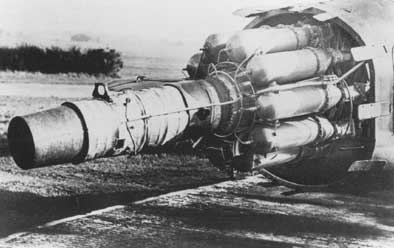 The Powerjet W.2B fitted in Z8570 1942